The beginning of the circle
New circular
In general, the 'second life' options have a higher circular value than buying new furniture, because raw materials and processing are always required in production. Nevertheless, we have also endeavoured to make our new furniture as circular as possible. We have done this by always selecting the option with the highest circular value throughout our entire process, from the raw materials we use to our smart solutions. In other words, if you are looking to buy new (educational) furniture with the highest possible circularity value, Eromesmarko is also the place to be!
Combining features
Making furniture redundant
In addition to optimising the life cycle, our product design is also continuously focused on smart solutions that promote the circularity of educational interiors in other ways. For example, we have a number of items that have the same functionality as two or more traditional pieces of furniture. As a result, several pieces of furniture can be replaced by just one new item in a new design process. One example is our Flexstool, which can be used in lecture halls in both a lecture and a group work configuration. Another example is the sit/stand table for teachers to give instruction either in a sitting or standing position, which can also be used as an extra desk or worktable in a circular configuration. Of course, height-adjustable workstations and sit/stand workstations, which replace a conventional desk and a stand-up workplace, are also good examples. This reduces the environmental impact of the furniture that has become redundant. In addition, it enables educational institutions to furnish more efficiently and to teach more pupils or students in a responsible manner in any given space. In new buildings, it can even result in fewer square metres or a layout with more 'free' space, such as a school garden.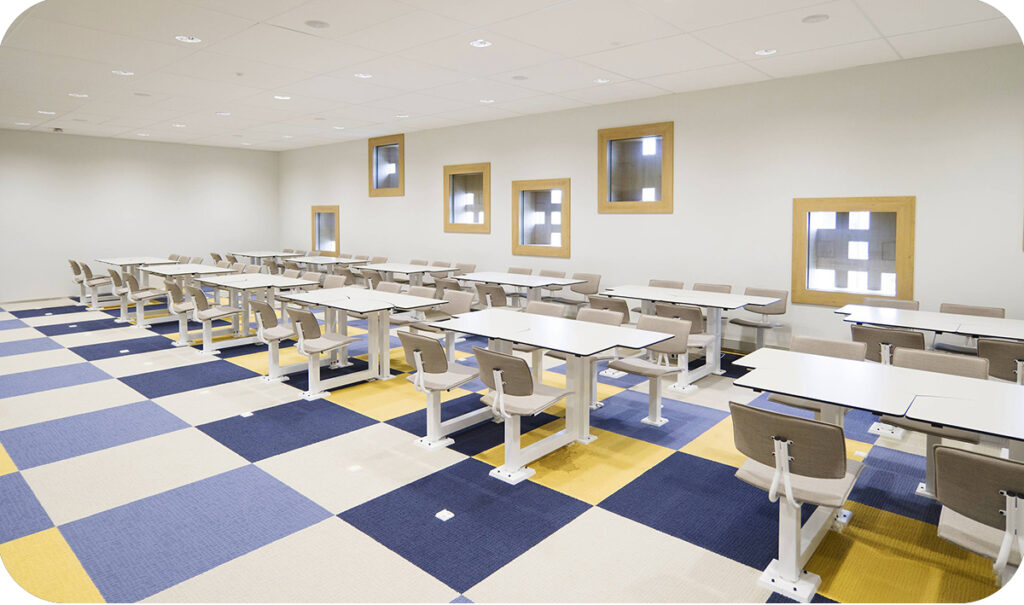 An efficient combination
Flexible furnishing and sharing furniture
Other examples of smart solutions that contribute to circularity are the stimulation of shared learning and working spaces and flexible furnishing. A concept that contributes to this is working at a single height, which we have incorporated in our Gripz Flex and Levo student furniture for primary schools, for example. Because all students, regardless of height, can make ergonomically sound use of the same adjustable furniture, a school can shuffle between classrooms more easily. As a result, less furniture has to be stocked. Additional benefits include a visually calm room and equality between the students. Multifunctional furniture can also be used in secondary and higher education to better meet the needs of students, who can thus share this furniture regardless of their specific activity at the time of use.
Minimum table and chair footprint
Emission reduction
We try to minimise the environmental impact of our furnishings not only by reducing the need for furniture, but also by minimising the impact of each piece of furniture. For example, we work with local raw materials (mainly from the Netherlands or from Western Europe) and completely Dutch production. This ensures minimal transport kilometres, which can reduce the total carbon footprint of the products by up to 50% compared to products imported from Asia. We also work closely with our suppliers, with whom we have established contractual agreements on sustainability. Even by the strict Dutch standards, we have optimised production to be as efficient and emission-free as possible. Our factory in Wijchen is one of the cleanest in the Netherlands and meets the GPR8 standard with minimal carbon emissions thanks to solar panels, heat recovery and the like. In addition, our production is virtually 100% waste-free because all our waste products can be recycled in the same way as the returned furniture.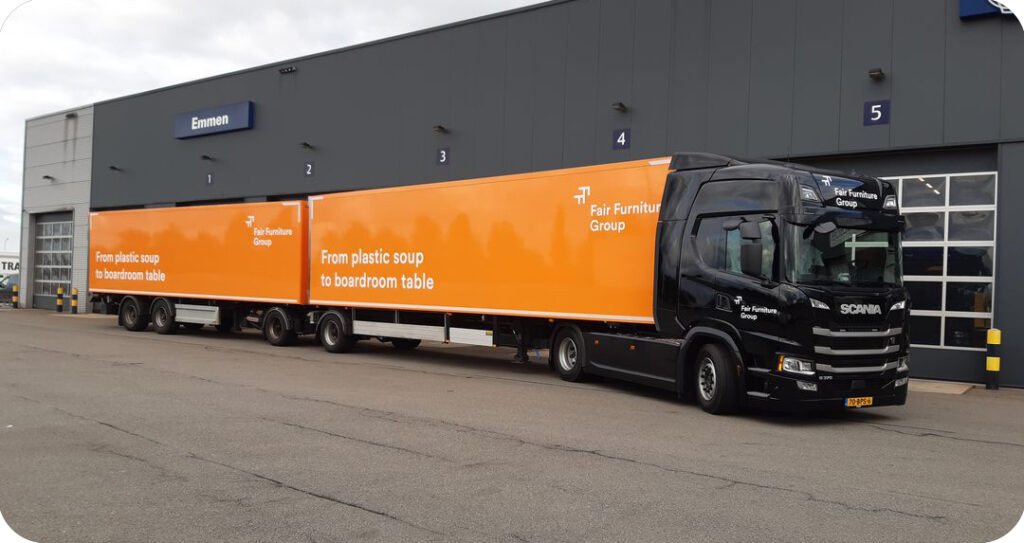 Completing the circle
Renewable materials
Nevertheless, we cannot escape the fact that new raw materials are needed for the production of (educational) furniture. We do, however, choose to pay a great deal of attention to sustainable, renewable materials. This has already led to the development of many new vegetable, bio-based raw materials, such as the seat shell of the Hemp chair, which is made of hemp and bio-resin and was voted the most renewable material of the year 2021. In addition, many of our raw materials are not only recyclable but also recycled. For example, the felt of the Felt chair is made from PET plastic, and the PP regenerate of our Finn chair shell, Wybelt stool and Level drawer is made from 100% recycled plastic. After use, they can be reused for a new Finn, Wybelt or Level and thus create infinite furniture. This is how we complete the circle!