MORE THAN FURNITURE
Thinking together is key at Eromesmarko
In recent years, Eromesmarko has invested heavily in developing De Meshallen in Wijchen as a network and knowledge platform for the educational sector and involved market players. A suitable moment for outgoing general manager Arnoud van Spijk to hand the reins over to his successor Jeroen ter Weeme.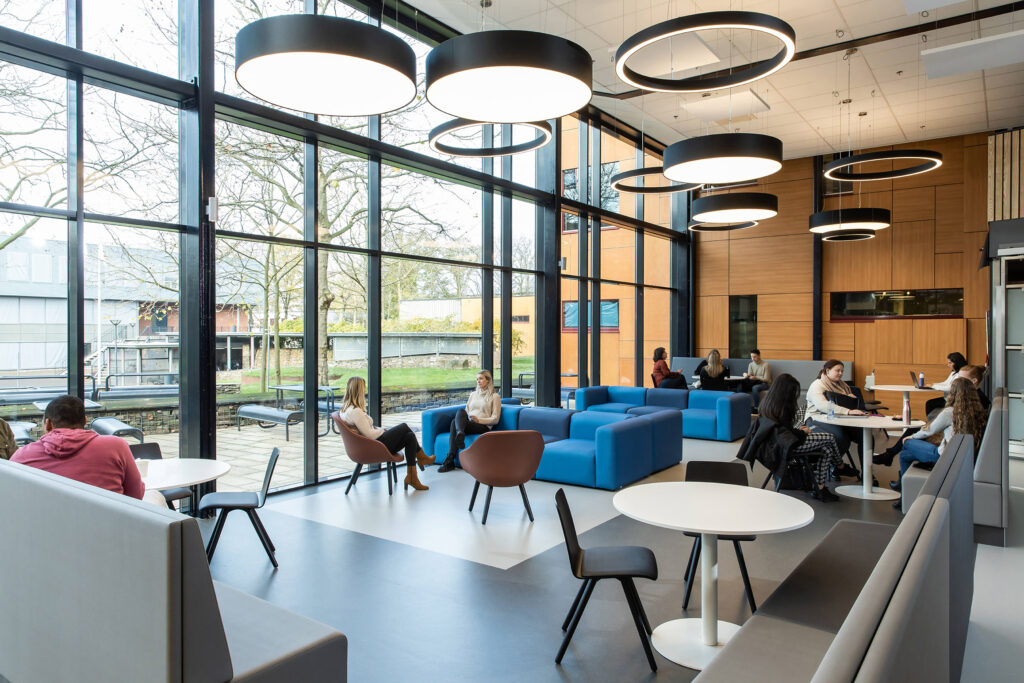 Society is changing rapidly and everything is becoming hybrid in use, with a focus on experience and, of course, very sustainable. We are only at the beginning; so much more is possible by addressing design issues integrally at the front end of the process," Arnoud opens. "Education is one of the most important formative factors in a person's life. Entire generations have become who they are at an Eromesmarko school or college desk. Together with others, we want to play an important role in the development of education. Our objective is to create an environment in which it is easier to learn, teach, work and meet. In recent years, Eromesmarko has been completely renewed, the three outdated factory halls are now more than double in size, completely modernised, built with sustainability performance GPR8 and the working conditions have been greatly improved so that the seasonal influences such as cold and heat no longer affect the conditions in the hall. In addition, the front part of the building is now used for De Meshallen, of which Eromesmarko is also a part. De Meshallen is the leading platform where education-related organisations meet, network, work, share knowledge, inspire, confer and train. The purpose of De Meshallen is to improve education by connecting Education, Government and Entrepreneurs. Cross-pollination between the various disciplines leads to different perspectives and innovation. At the moment, more than 30 educational innovators participate in De Meshallen and there is still room for more. The entrance area is simultaneously a showroom, a Grand Café and a pleasant workplace. It is somewhat unclear to a new visitor what exactly is going on here, but none of the people present seem to mind, plus the vibe is engaging and inspiring. Here people think, innovate and work on sustainable solutions."
"It's more than just delivering a nice chair; the concept has to be spot on"
NO CATALOGUE
Arnoud: "Our goal is to raise the level of knowledge of the decision makers. It often starts with a practical question, which we help to answer. More and more, we notice that our clients are taking a more business-like approach to the design of their buildings; you can put a lot of money into furnishing, but what is the return? More users, increased results, nice places to be? A lot has happened in the field of educational innovation in the past ten years. Housing and furnishing have clearly emerged as a third learning tool. This is a trend that we would like to support in the best possible way with our circular contract and consultancy services.
That is why we no longer work with a catalogue, where the client's choice of furniture is based on the price. It's more than just delivering a nice chair; the concept has to be spot on. We do not make concepts. The customer determines the concept and we respond to that. Whether it is hybrid learning, a homely atmosphere or multiple forms of learning and working. We adapt and think in line with the customer's vision. Essentially, as a company, we can do anything, but that is not our objective. We do what is necessary for the client and we go to great lengths to do so. We have three brand values, in which this supportive attitude is paramount; what does the customer have in terms of expertise and where can we support? Plus, our focus is always on education and all our processes are sustainable. These are the three principles on which Eromesmarko is based and which also meet the needs of our clients."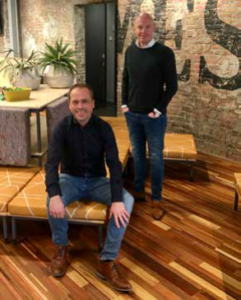 CONNECTION ESSENTIAL
Jeroen ter Weeme is Arnoud's successor: "After a technical education, I was active in the world of recruitment for almost 18 years, where I mediated for middle and senior management. I wanted to make a new step towards a commercial position in the manufacturing industry, but in a people-oriented company. That turned out to be Eromesmarko and it feels good. For me, the connection with people is essential. Sharing knowledge is important, and together with the education sector you translate visions into actual designs. I am drawn to this facilitating field, where we help to form furnishing concepts. Innovative design also creates a vibrant educational environment. We work for all types of education as well as libraries and adult education. For each of these sectors, the same approach applies: the client is key and we ensure that we fix it together with them. The methodology is the same for all education types; you try to find the question behind the question. Then the customer will ultimately be happy with our headstrong attitude. We start from the ground and then work our way up. For example, there is a request to replace furniture, but at the same time there is a demand for space and a desire to teach in a different way. That is why we also have our own accommodation consultants and interior designers."
VARIOUS INITIATIVES
Arnoud looks back: "In 2012, Marko was acquired by the VDB Group, which is now called the Fair Furniture Group, by the way. In 2008, Eromes had already joined the group and in 2014 the company was renamed Eromesmarko. Both brands were well established in the market and we wanted to work less product-oriented and more concept-oriented. Together with educational institutions and educational advisory organisations such as the HAN University of Applied Sciences, Ludwig Maximilians University, the AVS (General Association of School Leaders), the Rolf Group and many others, we have been looking for a proactive attitude of 'what does the market need' instead of waiting for the question. The Eromesmarkoschool (2015), where the latest trends in housing and education are presented to our target group, the SEE (Share-Explore-Experience) platform (2016), a knowledge group of more than thirty institutes for higher education where knowledge and experience is shared, and of course the Meshallen (2019/2020) are specific initiatives in which we participate. The launch of the Zooi (Dutch for mess) brand in 2017, made from residual materials collected in our own factories, is one of the highlights of our integrated sustainability policy, as the brand originated on the shop floor."
RHEIN-MAAS ZENTRUM
A number of committed partners from the Netherlands set up the Lern-Raum project as part of a developing network with parties in Germany. The Lern-Raum project aims to actively contribute to the (educational) renewal and organisation of education in Germany and the Netherlands. The reason for this is the need expressed by the government of the German Federal State of North Rhine-Westphalia, many municipalities and school boards to innovate education in Germany and to translate this into the design of educational facilities.
The physical form of this is the Rhein-Maas Zentrum (2020), where educational innovation can be seen and experienced. Our German headquarters is in Frankfurt and we think we can certainly grow from these two centres."
ENTERPRISING VIBE
Jeroen concludes: "You can tell that Eromesmarko is a technically driven club with a creative and enterprising vibe. There is always something happening and there are plenty of opportunities for everyone to grow and develop. I have noticed that colleagues feel that they are part of something bigger and that they are actively involved in the development and growth of the whole company. That also means thinking together in strategic and creative ways on the realisation of new concepts. Those who have the drive to participate, feel at home here."